Zimme de braxa
Ligurian literature book series
Zimme de braxa ("sparks of embers") is a book series born in collaboration with the publisher Zona under the auspices of the Conseggio pe-o patrimònio linguistico ligure. It aims to offer an overview of the vast spectrum of Ligurian literature from medieval times to the present day, spanning a variety of textual genres, themes and linguistic areas.
The volumes it features – all accompanied by critical notes and commentary – are variously texts from the historical literary tradition, reissues of some of the most significant works of the last two centuries, and unpublished works by contemporary authors. The series is divided into three sections, each relating to a textual type and distinguished by a color accent on the cover: red for poetry and rhyme; green for fiction and prose; and blue for theater and drama.
Volumes
Stefano De Franchi
1. Ro mêgo per força
edited by Stefano Lusito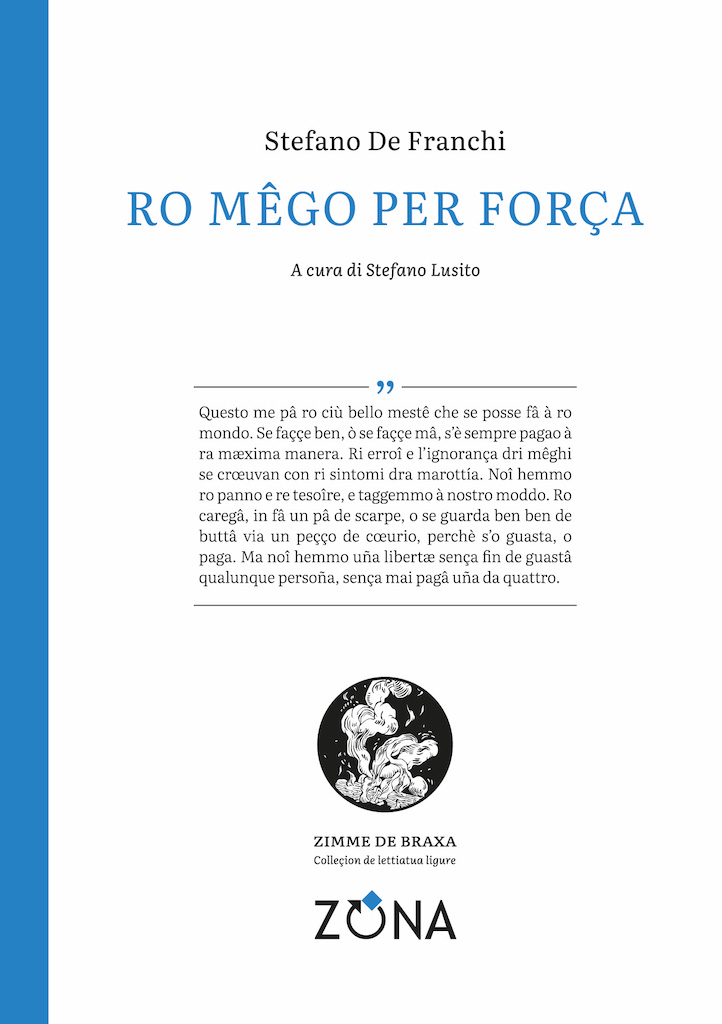 Ro mêgo per força – a version of Molière's famous Le médecin malgré lui – is one of the best examples of a transposition of a widely circulated play into Genoese. De Franchi's theatrical production gives readers a vivid watercolor of 18th-century Genoa. The volume includes an introduction and a glossary of lemmas and expressions which may be less intelligible to today's readers.
Stefano De Franchi (1714–1785) is the leading exponent of 18th-century Genoese literature. He participated in the War of Liberation of 1746–47 and was a member of the Ligurian Arcadian colony. He was the author, with others, of the semi-facetious remake of Tasso's masterpiece (Ra Gerusalemme deliverâ, 1755); late in life he gave to the presses an anthology collection of his own poems (Ro chittarrin, ò sæ, strofoggi dra muza, 1772) and a series of comedies in two volumes (1772; 1781), largely mediated from French theater.
Click here to
purchase the book
Giuseppe Cava
2. Föe moderne
edited by Aselmo Roveda
illustrated by Elettra Deganello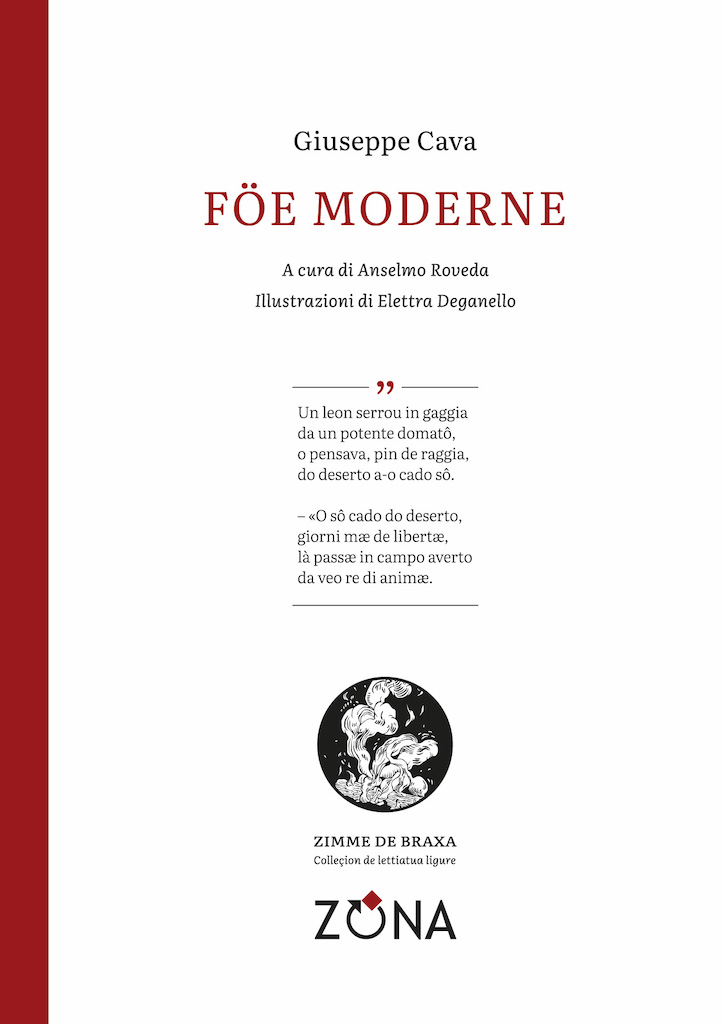 Föe moderne collects the "modern fables" published by Giuseppe Cava in the fourth section of his poetic collection Into remoin (1930). They are rhyming texts that are part of the literary tradition of fable-making initiated by Aesop and Phaedrus, in Liguria embodied in the 19th century by Martin Piaggio. For the author, a member of the anarchist and socialist movements, fables are opportunities for social criticism. This volume includes an essay on fables and a glossary of the lemmas and expressions contained in the texts.
Giuseppe Cava (1870-1940) was a writer and poet from Savona. He was amongst the most important exponents of Ligurian literature in that city. He had a large body of work that was published in periodicals – after his debut with A strenna de Savoña (1923), he published the collection Into remoin (1930), which also includes his modern fables.
Click here to
purchase the book
Roberto Benso
3. Ei fóe dei ferguò
foreword by Jean Maillard
with essays by Stefano Lusito and Anselmo Roveda
illustrated by Elettra Deganello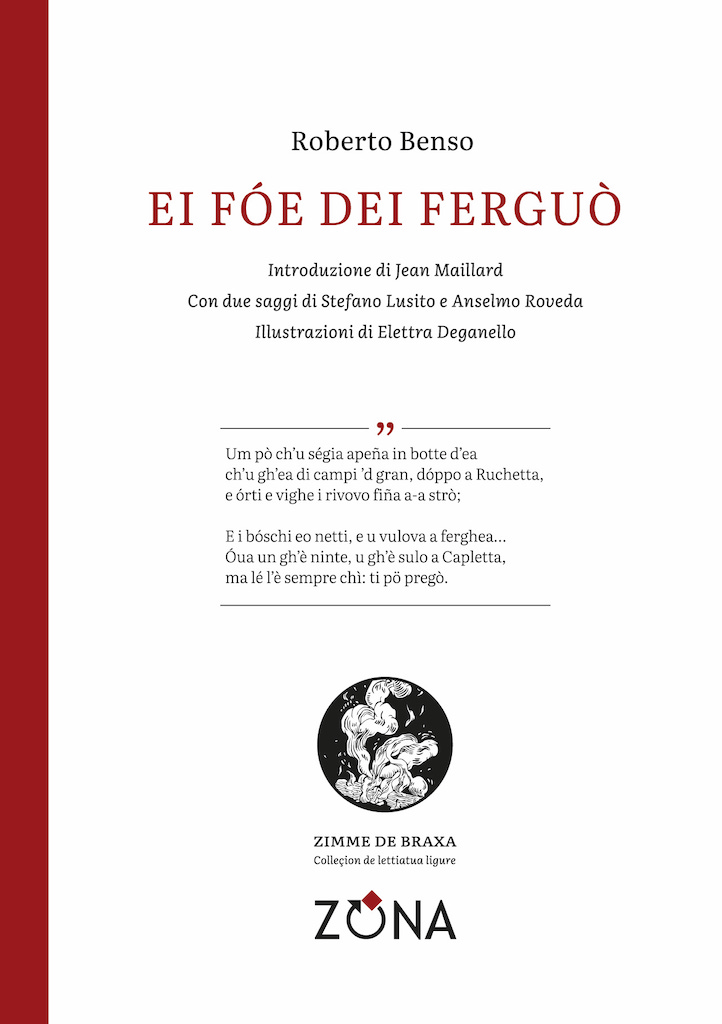 Ei fóe dei ferguò collects the poetic production of Roberto Benso written in the dialect of Carrosio, a town between Voltaggio and Gavi, in the province of Alessandria. The author's life and reflections reverberate in these poems. It is an extremely important linguistic document, hitherto the only evidence of an almost undocumented Ligurian variety. The volume is accompanied by two essays: one on the characteristics of the dialect of Carrosio, the other on Ligurian literature in the historical region of Oltregiogo.
Roberto Benso (1939) is a writer, born in Carrosio and graduated from the University of Genoa. He is the author of numerous monographs, essays, scholarly articles, and catalogs. He was the former editor of the periodical In Novitate, published by the Centro Studi di Novi Ligure of which he is currently honorary president.
Click here to
purchase the book